The assignments were graded, the assessments were scored.  The out of office response said 'NO'! To late work anymore.  I straightened my desk up and unplugged the fridge, then danced down the hall and sped out of there quick.  Yeah, I definitely do not have a future in songwriting, but you know what I do have?  2 weeks off!!!  While I should most likely have added a whole line of just exclamation marks, I think 3 will do the trick for the time being.  As a high school English teacher, this year has been nothing short of challenging and while I have really enjoyed the students I have had, all of the changes and unknowns have certainly been tiring.  Case in point, I fell asleep at 7:22 p.m. last night.  Way to party my way into break, I know.  
But…this weekend and the upcoming week I have so many little things to accomplish and look forward to and thought I would share some of them with you, because, you know, you don't have enough to do before the big guy in red appears next Friday morning!
Move the Damn Elf
Am I the ONLY one that has a love/hate relationship with this thing?! I hope not. First, I told anyone who would listen that my kids didn't need an elf to keep them in line when they had mom and dad to enforce the rules. Then, my oldest would continuously tell us how amazing our neighbor's elf was and all that it did and I felt like the Grinch, so I caved slightly and bought an Elf ornament. I figured moving the thing around the tree wasn't too awful. But it's not the same, so last year the girls got 1 elf (I'm not getting an elf for each kid, that's just more than I'm willing to invest). And let me tell you, that freakin' Holly has been the bane of my existence ever since. Okay, perhaps that's an overstatement, but I do regularly forget to move her and our youngest announces every morning that she has to go and look for her (which is typically my 'oh crap' moment where Justin distracts her while I run downstairs). Don't get me wrong, sometimes I actually here the phone alarm I've set as a reminder and do this once the kids are in bed, but it often gets shut off and then panic mode hits at 6:30 every morning. So, if you are in a similar situation and have no clue what to do other than moving the stupid thing from one random location to the next, here are a few quick ideas that won't cause a mess (looking at you, Karens!)
Elf playing in Barbie car or Jeep 
Elf having 'picnic' with fake food and random little toys you find lying around the vicinity 
Elf hanging upside down in the tree like she was flying and fell into it (I may have thrown her)
Elf 'sitting' in middle of kitchen table to make sure Eme eats her veggies
And really, the elf playing with any of the kids toys is for some reason, hysterical to the little ones and takes like 2 seconds to set up.  That's as much energy as I can muster and the girls are so excited, and I don't feel like the Grinch (at least, not as much).
Last minute gifts for stockings or impossible grandmothers (looking at you, Evelyn!)
My grandma is impossible to buy for.  If it's not a Kohls gift card or a bottle of wine, why do I bother?  And yet, every year, I want to get her something else to unwrap (and include a gift receipt, of course).  Here are a few items that I hope she will enjoy this year (other than aforementioned Kohls gift card. I'm not a monster).
Any home decor with cardinals on them.  The cardinal is supposed to be a symbol that someone we lost is still nearby, and since my grandpa died a few years ago, I thought it might be a nice sentimental gift.  I picked out cardinal salt and pepper shakers, similar to THESE.
Staying on the home decor and bird theme, I found THIS pillow case cover and insert on my go to site, Amazon.  Totaling $20 altogether and the fact that you can purchase additional covers sold me.  Additionally, I am WAY into lumbar throw pillows as apparently crossing over into my 40s has brought the arrival of miserable back pain.
Lastly, when you simply cannot come up with anything else, some smell goods are always welcome. I found THIS recipe for Christmas potpourri on the stove on Pinterest (where else?) and the best part?  You can quickly make up bags for others as well!  I handed them out to my co-workers and plan on also getting them together for other friends and family.  The smell simmering on the stove is AMAZING!
Self care …aka ME time!
In my never ending quest to stop myself from checking school email, lesson planning (it's a strange addiction) and other work-related activities, I am going to focus on these ideas over break. I love to read, so here are a few books stacked on my side table right now that I cannot wait to delve into:
–the book of two ways by Jodi Picoult
–The Tattooist of Auschwitz by Heather Morris
–Cilka's Journey by Heather Morris
–Necessary Lies by Diane Chamberlain
I plan on heading out for a massage in the next week (although, thinking about the mask situation, who knows how that will work? All I know is that my back is crying for one).  I have had success with deep tissue massages at Hand & Stone Massage and Facial spa (they are a chain here in the Columbus area) before, so that's probably going to be my go to again this time around.
For some reason, I really enjoy organizing areas of our home and there is some strange satisfaction that I feel when I walk by and see the pantry neat and orderly, or the girls dressers not shut with clothes popping out.  Additionally, we started sorting through toys prior to Christmas a few years ago to organize, pack away, or donate.  It helps me mentally prepare for their grandparents overdoing it (oh, and me too).  
Baking!!! (and taste testing. Lots of it).
It is so soothing to listen to Christmas music and bake.  Oh and also eat it.  That's why I bake up a storm and then package up plates of goodies for the neighbors. We typically deliver them the Sunday evening before Christmas.  The girls love being out and helping deliver these in the dark while looking at all the beautifully decorated houses in the neighborhood, so it's become our tradition! Below are some of my go-to recipes that are always a hit!
Christmas Wreaths (modify them by using red hearts and turn them into Grinch delight!)
Peanutbutter kisses (love using the red or green sugar to make the holiday appropriate!)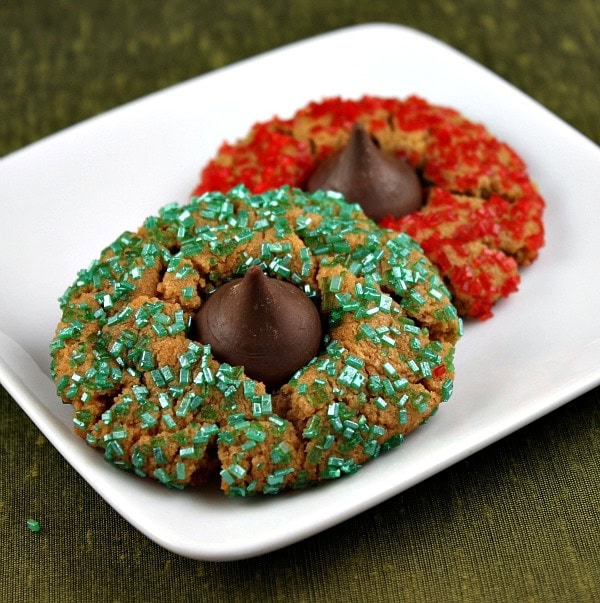 I hope after this insanely crazy year that you and your family are spending some time together not worrying and having fun.  I think this is something that EVERYONE deserves!